2016-02-23
President Ilham Aliyev and President Hassan Rouhani held an expanded meeting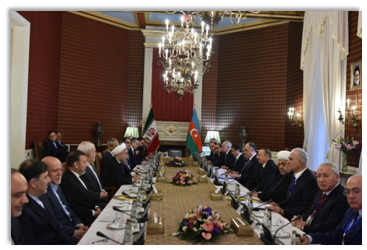 On the sidelines to the official visit to Iran, President of the Republic of Azerbaijan Ilham Aliyev and President of the Islamic Republic of Iran Hassan Rouhani have held an expanded meeting.
President Hassan Rouhani said that the official visit of President of the Republic of Azerbaijan Ilham Aliyev to Iran was of great importance and would contribute to further development of cooperation between the two countries.
The Iranian president stressed that the documents to be signed during the visit would contribute to the development of our relations and praised the work of the State Commission for Cooperation between the Republic of Azerbaijan and the Islamic Republic of Iran in economic, trade and humanitarian spheres. The head of the Iranian state said that the current development of relations was based on historical proximity and friendship between the two countries and peoples. President Hassan Rouhani added that our relations had already reached the level of strategic partnership, which puts forward the important task of further developing our relations in all spheres.
Stressing that Iran acted on the principle of territorial integrity of countries, President Hassan Rouhani said his country recognized the territorial integrity of Azerbaijan. He stressed the unacceptability of interference in the internal affairs of states in international affairs. The head of the Iranian state also noted the importance of cooperation between our countries in the field of security.
President Ilham Aliyev said that our relations had a long history and rested on a solid foundation. The head of state congratulated the President and the people of Iran on the lifting of sanctions against this country. Noting the fact that the positions of Azerbaijan and Iran overlapped on many issues, President Ilham Aliyev stressed that despite the tensions experienced in the region, both countries were a model of stability.
The President of Azerbaijan stressed the importance of a fair approach in international and inter-state relations, stability and security, and stressed the importance of cooperation in the fight against terrorism.
During the meeting, the sides also pointed to the need for stepping up efforts to develop economic cooperation between the two countries, including the fields of energy, investment, banking, trade, tourism, transport, infrastructure, culture, etc. It was stressed that the Caspian Sea was a sea of friendship and cooperation. The sides also discussed the possibilities of joint cooperation of Azerbaijan and Iran with other countries. The parties expressed concern at the increasing Islamophobic trends and discussed ways to prevent such phenomena