2016-01-20
President Ilham Aliyev paid tribute to 20 January martyrs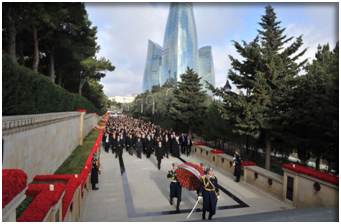 President of the Republic of Azerbaijan Ilham Aliyev and his wife Mehriban Aliyeva have visited the Alley of Martyrs to pay tribute to the victims of the Bloody January tragedy on the National Mourning Day.
Twenty-six years have passed since bloody January. 20 January 1990 went down in the history of modern Azerbaijan as one of the most tragic and, at the same time, heroic dates for our people. This date has become a symbol of the struggle for national independence, freedom and unshakeable will. The people of Azerbaijan, subjected to punitive measures of the armed-to-the-teeth Soviet army, did not lose their aspiration to freedom. On the contrary, their voice grew even stronger.
Twenty-six years ago, on that horrific night, the courageous sons and daughters of Azerbaijan for whom the freedom, honor and dignity of their native country and people were above anything else, sacrificed their lives and became martyrs. Although many years have passed since Soviet troops perpetrated this bloody massacre in Azerbaijan, our people have not forgotten the pain of those horrendous days and are expressing their contempt for the then leaders of the Soviet empire and their servants in Azerbaijan for unleashing suffering on their own citizens.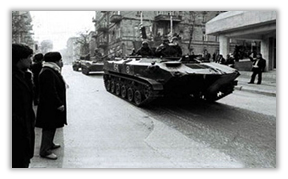 The deployment of a large military contingent against large masses of people protesting at the biased and pro-Armenian policies of the USSR leadership, its overt support for Armenia's territorial claims for historically Azerbaijani lands and the treacherous stance of the then leaders of the republic led to an unseen tragedy in Azerbaijan, especially in Baku, and to the killing of many innocent people. Despite this, instead of standing by their people, the incompetent and slave-like leaders of Azerbaijan continued to hold on to Soviet leadership.